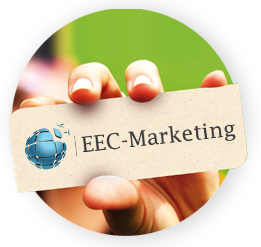 EEC-Marketing is an efficient marketing agency which involves only experts who do every project with passion and commitment. The main aim of the company is the client's satisfaction.
By means of our experience as well as erudition of our workers, we are to provide the highest marketing service standard.
Particularly, we are interested in your satisfaction that stems from properly executed tasks as well as results we are involved in. The thing that makes us trustworthy in front of our Clients, is that we are known for the dynamic and responsible actions
EEC-Marketing guarantees the professionalism and honesty regarding every entrusted project.
We always aspire to provide the optimum as far as the marketing actions are concerned.
As a result, the Client is to see the very expected outcomes.
The most appreciable trumps of EEC-Travel is punctuality, flexibility, and remarkable solicitude for our Client's property.
Briefly about EEC-Marketing:
• a team of experienced experts
• creativity and efficiency
• passion and satisfaction from work
• originality and uniqueness
• reliability and partnership